Latest Inquiries of Sinkery Anti Static Foam in July, 2020
Views: 1552 Update date: Aug 11,2020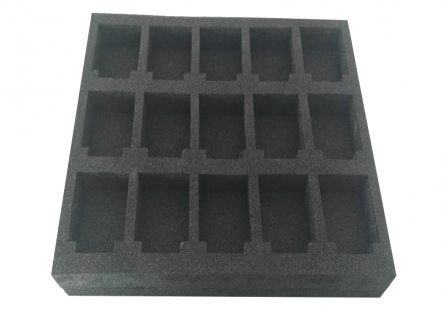 Our Sinkery's Anti Static Foam provides controlled, dissipation of electro-static charges emitted from other neighboring materials and personnel during handling, assembly and shipment of the product. Our anti-static feature outperforms competitive products, in providing long term RELIABILITY of anti-static performance and physical product protection. Anti Static Foam is used to protect objects that are sensitive to static electricity, and any added static could cause the components to malfunction and become permanently damaged. Our static-dissipative foam is designed to dissipate any added static before it has a chance to reach the components. Sinkery's static-dissipative polyolefins foam can be used to manufacture case inserts, specialized packaging supplies, or protective gear for electrical components.
As the most reliable and experienced Anti Static Foam manufacturer, we got many inquiries from our potential clients every day, and we would like to share some of them with you:
| | | |
| --- | --- | --- |
| 留言内容 | 留言日期 | 电子邮箱 |
| Good day. Do you have PU foam anti static pink with sr 10e9 below? Please email me thanks. Philippine market. | 2020-07-30 04:43:44 | O***@m***.com |
| Please quote custom PINK esd foam pads 24x24x1/4" 24x24x1/2" 24x24x3/4" Advise on freight and please let me know lead-time ASAP. Thanks | 2020-07-28 06:58:41 | M***.COM |
| In need of 10'x20'x3" piece of XPE foam shipped to USA - Ohio 44256 Zip Please email quote. Thank you. | 2020-07-25 22:20:34 | d***@***.net |
| Hi, I wanted to get a high density foam box manufactured. Do you do this? If so, I can provide dimensions. | 2020-07-25 21:54:04 | a***@yahoo.com |
| I would like to get a quotation for 50Pcs of anti static box approx 400 x 400 x85 capable of holding approx 64 PCBs Please e-mail me | 2020-07-24 16:33:23 | j***@***.ie |
| Our adept staff of low cost university writers, scientists and students develop. | 2020-07-22 04:46:40 | i***@***.com |
| are interested to import ixpe foam on rolls, colour black , thickness 2.5mm width 145cm density 66kgs qty 1x40ft container high cube please quote your lowest best prices by mail, our mail address as follows. ***@***.ae best rgds azher ansari albarraq curtain textile trading llc dubai united arab emirates phone number 00971-55-858**** | 2020-07-20 04:13:08 | a***@***.ae |
If you are also interested with our Anti Static Foam, please visit our website www.sinkeryfoam.com for more information. If you have any query, please feel free to contact us at eric@sinkeryfoam.com.